Corporate events are an essential part of your work life. Focused either on employees or your customers, there are many reasons to throw a corporate event. And many different goals that you may want to have achieved by the end of the night. Throwing the right corporate event can have huge benefits for your business, while one that flops could have disastrous consequences.
If you are considering hosting your own corporate event, read on to discover the most common types to see which might be the right choice for your requirements…
What are the most common types of corporate events?
When looking at the most common types of corporate events, it is important to consider the most common reasons to host such an event. For your employees, the general reasons are to motivate them to continue doing well, celebrate company milestones, or highlight big shifts in organisation or direction.
For your customers, the aim may be to launch a new product or service, to educate on a new step or concept in your company, or to encourage new business. You may be trying to create an environment for networking leading to increased cooperation, to raise capital by encouraging new investment. Or simply want to remind everyone involved where the business is at right now.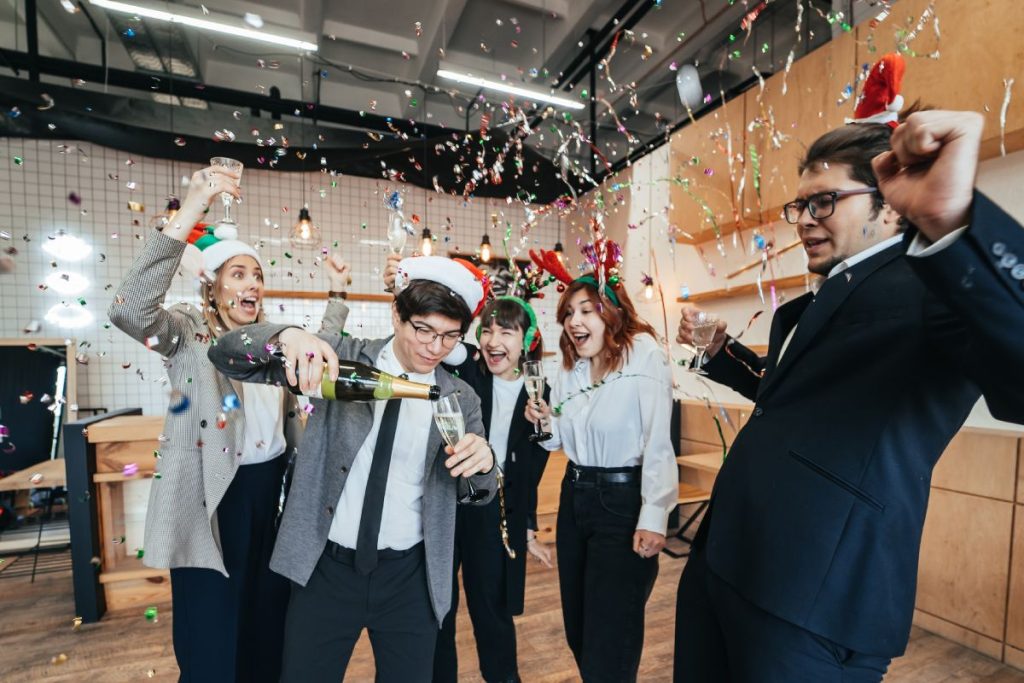 Whatever the reason, it can play a big role in the type of event that you have, and the format that you choose. For example, if you are working towards team building, you don't want to simply lecture to your employees. You will want them moving, mingling, and working together.
Likewise, if your goal is to educate or highlight something important, you don't want everyone focused on dinner and drinks rather than your message. Think carefully about the goal of your corporate event, and then plan one that suits that goal.
The most common types of corporate events for you to choose from are: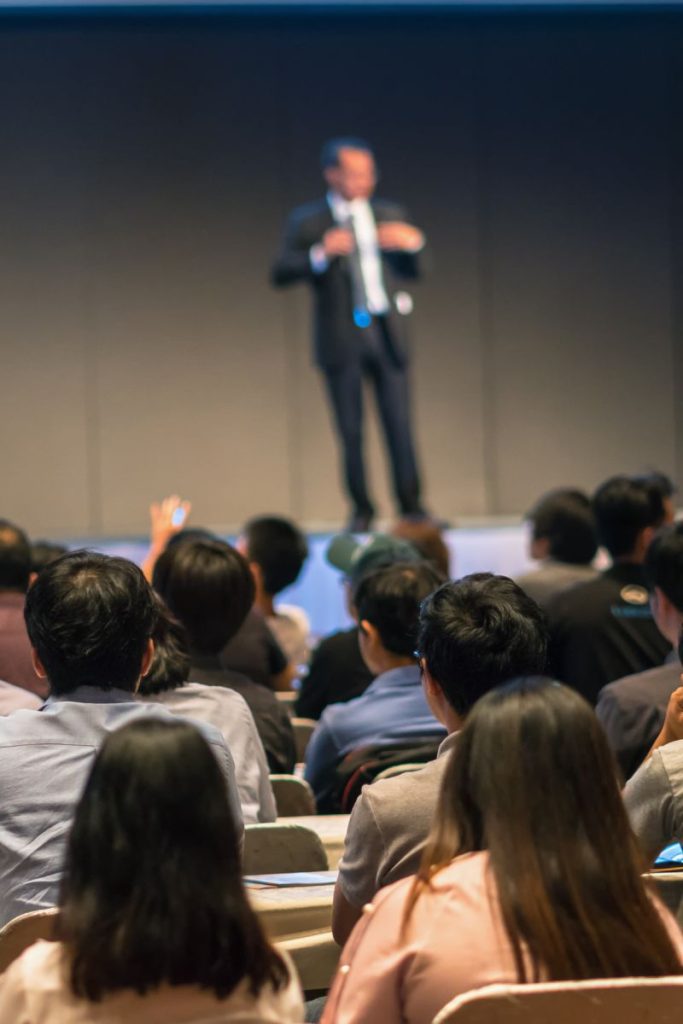 Conferences and seminars – these tend to take place at conference centres and last all day or even longer. People gather to hear a keynote speaker, and panels, and join discussions about a certain topic or topics. Conferences can be a great way to motivate people, network, and educate them about a product or topic.
Presentations – Somewhat similar to a conference, a presentation will again seek to educate people, yet will often include less mingling and opportunities for networking. Instead, your goal may be to ensure that all your employees are on the same page about new practices, for example.
Gala dinners – you might have a big dinner to encourage networking, reward your employees, board members, or clients, or celebrate a certain victory or milestone. You may wish to hold an auction or a raffle to raise money, interest, and awareness in your focus for the night.
Trade shows – Trade shows are normally large events that aim to bring together businesses, suppliers, customers, and more. You could have an industry-wide trade show, one for more specific items, and show yourself to be an industry leader in this area.
Board meetings – Much as it sounds, board meetings are meetings of the board, where decisions are often made and recaps of current activities are given. They can also be opportunities to network and communicate on a different level.
Company milestones – These events can be an excellent way to promote your business, showing how far you have come, what you may have overcome, and where you plan to be at the next milestone. 
Team building activities – Team building activities can take many shapes and forms. You may choose something silly, low-key, and relaxed, or something more competitive, high-energy, and even in far-off and different environments. You could organise a retreat, do physical activities, or play more mind-based games. As long as your team are working together, your event is a success.
Award ceremonies – These corporate events can be in-house awards, which can raise morale, reward individuals, and help to motivate even better performances in the future. They can also include awards for clients and can be industry-wide. In this latter case, you can show yourself to be an industry leader, and try and drum up more business through winning.
Product launches – As is probably fairly obvious, these events tend to focus on the launch of a new product or service. You may be launching to a specific group, for example employees, clients, and investors, with the idea that the news will spread via the media and word of mouth much further.
Each of these common corporate events can be set up slightly differently, and yet each is designed to serve a particular purpose. Choosing which one to throw means first settling on what your purpose is, and how best to achieve it.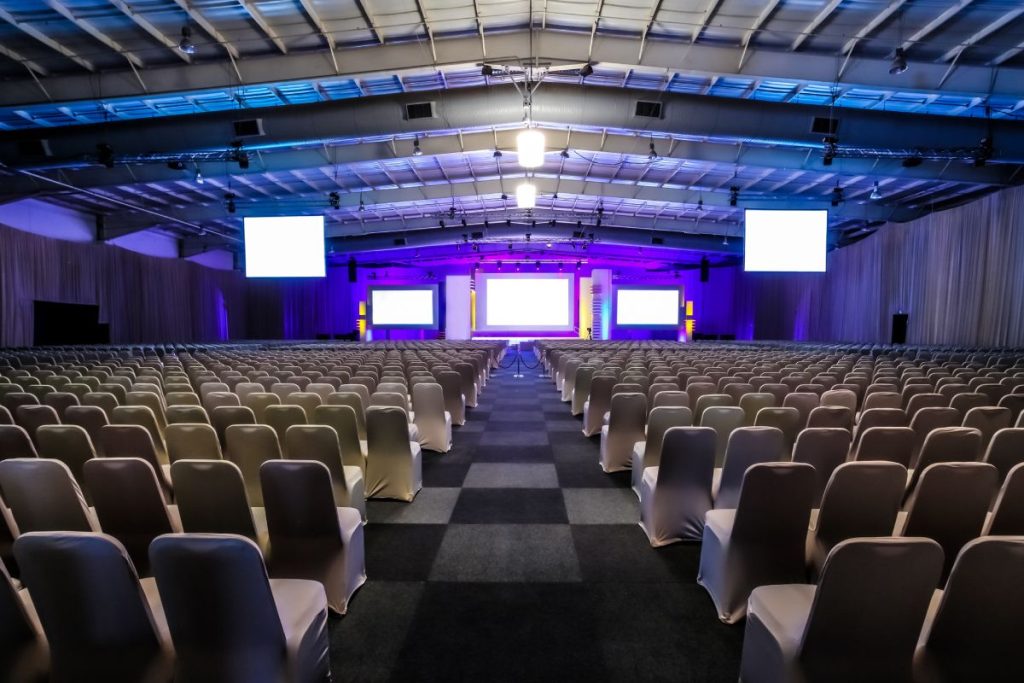 Who and what is involved?
Exactly what is involved in your corporate event depends on the first important step in hosting one – decide what your purpose is and make it clear. Once you know that, you can begin to properly plan your event. The next key steps are:
Decide on a budget
Make a clear schedule of deadlines to get the event together
Decide on your target audience
Choose a theme
Pick a location
Make a schedule for your event
Invite and advertise
Remember that you want to get something out of your event, but you also want to give. Make sure to hire the best catering for corporate events to give your guests a delicious treat while they listen to your pitch. Or create fun activities to draw them in while working on their team-building skills. Whatever the purpose of your event, if you plan it right, you are sure to succeed.
Final thoughts
Corporate events are hugely important, giving you an impactful way to get a message across and a valuable opportunity for networking. Or simply the chance to let your hair down and motivate your employees to keep working hard. Think carefully about what you want to achieve with your corporate event, then choose the format and style that will best help you to reach your goal.
(Visited 18 times, 1 visits today)